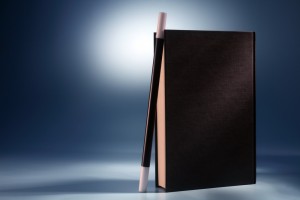 If your book was a magic wand, what would it do when you waved it?
Maybe you have great culinary abilities AND you're a super-cool nerd. So you went to culinary school and used that knowledge to develop a cookbook for all the other Trekkies of the world. Maybe that cookbook got you a table at Comic-Con, where you made connections that led to an introduction to Peter Jackson, who hired you to become his live-in chef. 
Maybe you've written a book on time management (be sure to send me a copy!) that led you to giving speeches to college students, corporations, and entrepreneurs on how to manage time to optimize success. You created the world's best time-management program and your book has allowed you to be THE world-premeire business speaker on time management.
Maybe you are an expert in sign language and you work with deaf adults. Because of this knowledge you wrote a book for employers and business owners on employing deaf adults. This led you to becoming a trainer for businesses to learn how to work best with deaf people. Your book optimized your knowledge to reach much broader and grander audiences, thus having a much greater lasting effect on the deaf community.
The common denominator in these examples is a book. But are these successes really because of the book or because of the author? Can you separate the two? A book can open doors for you, establish you as an expert, and define the rest of your life or career in ways that no other tool can. But the truth is that the only magic wand is YOU–the AUTHOR. After all, if a book was a magic wand, it could write itself. It takes an AUTHOR.
After all, if a book was a magic wand, it could write itself. It takes an AUTHOR.
A book can create the pathway . . . but the author has to take the walk. With the increasingly greater influence on indie publishing, the publishing world is becoming infiltrated by new authors who are truly self-made. Once pooh-poohed by publishers and industry experts, indie publishing exemplifies the nostalgic American Dream that has always made our country worthy of imitation; like the American Dream, success in indie publishing usually isn't greater than the effort you put into it, and you do it all for the chance to make amazing things happen. The author is the magic wand–not the publisher, the marketer, nor the book itself.
Authors, in what ways did you use your book to create pathways? Did you take them?