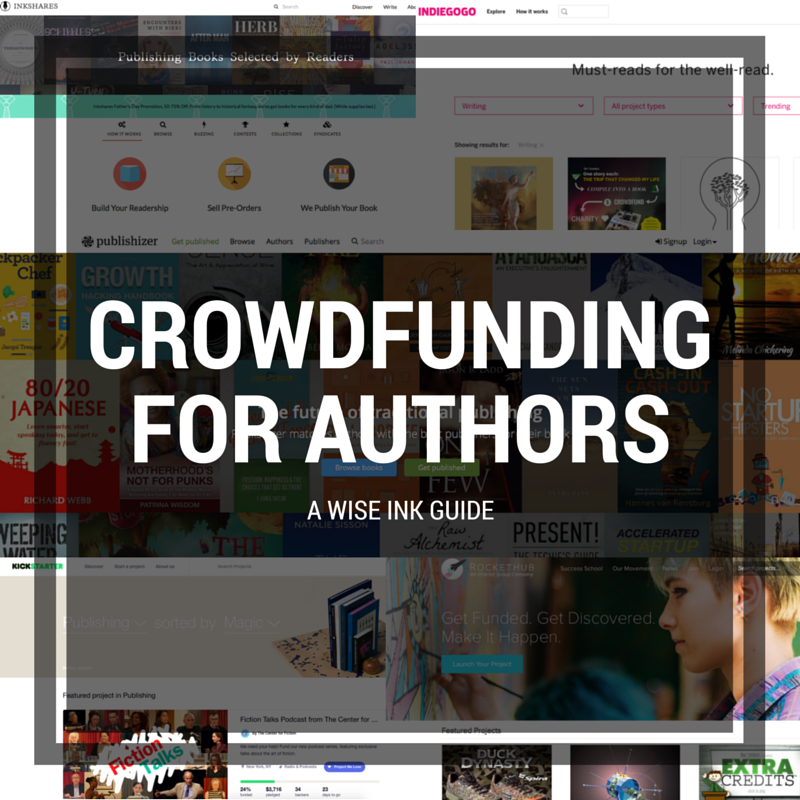 For many authors looking to self-publish, finding the money to finance a project can be a significant and overwhelming barrier. One internet phenomenon that has become an increasingly popular method of overcoming this obstacle is crowdfunding: raising money for a project, venture, or idea via individual contributions solicited on the internet. Though it is difficult to run a successful campaign—fewer than a third actually reach their monetary goal—it's a great place to start, and a successful campaign will garner money and promotion in one go. Below, we've listed five of the top sites for hosting a crowdfunding campaign—and the successful campaigns of a couple Wise Ink authors—to help you choose the platform that's best for you.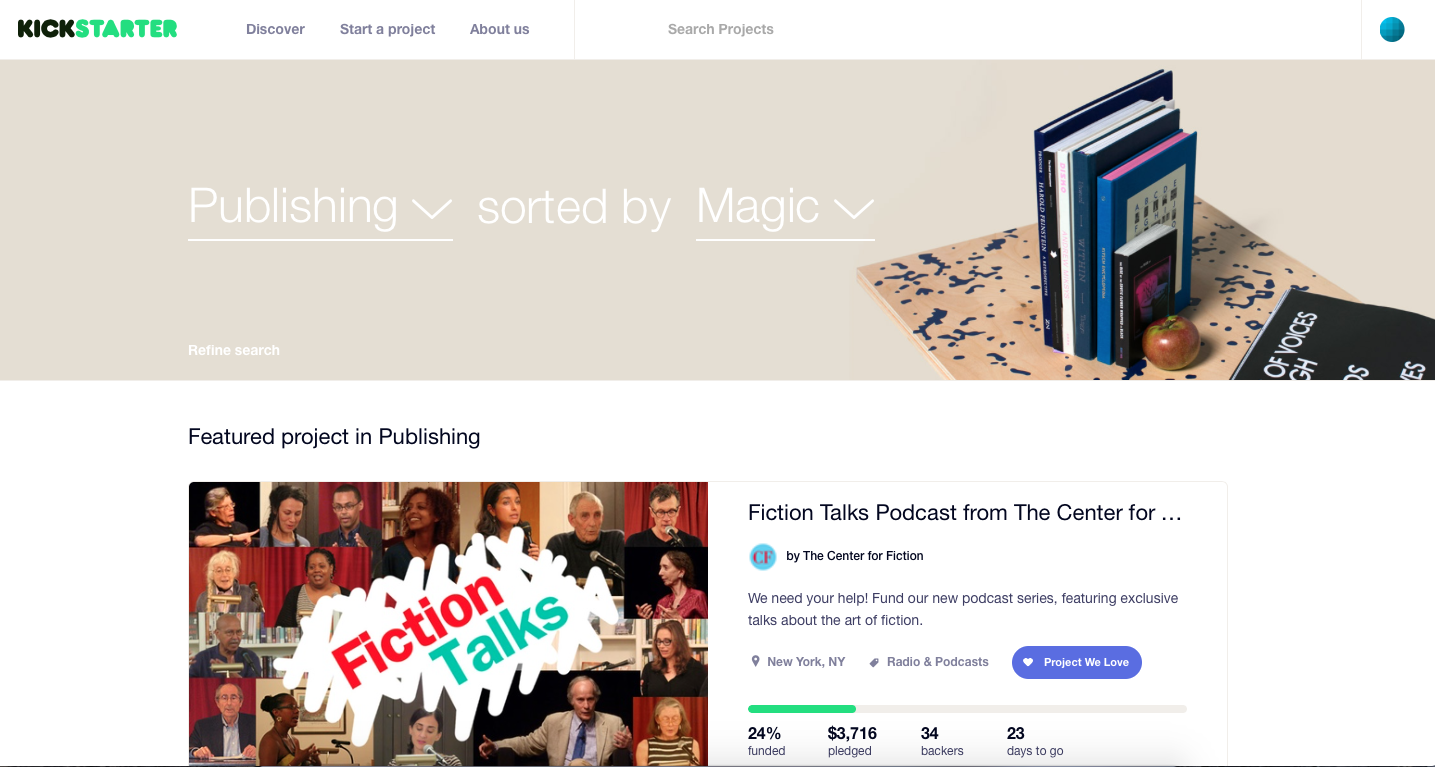 What it is: One of the first—and to date, the most successful—crowdfunding platforms, Kickstarter is based on one concept: creativity. Individuals can submit projects in areas as diverse as music, dance, food, design, film and writing. Since its inception in 2009, Kickstarter has received over $2 billion in pledges to fund hundreds of thousands of projects.
How it works: Individuals submit a project idea to be approved by site moderators. If the project is accepted, the creator sets a dollar amount goal to raise within a specified time period—between 30 and 60 days—and creates a profile for the project. This profile includes a description of the project, a short video or image of the product, and descriptions of "perks" for certain pledge amounts, which function as incentives for backers to invest. Examples include autographed first editions, personalized thank-you notes, stickers and other marketing materials. After a PayPal account and a profile on the site is created, creators can share their campaign on social media, and it will be visible by search on the website.
Average amount raised: $5,000 for all projects; $2,459 for publishing.
Their fee: 5%, plus credit card fees.
Pros: Kickstarter has a dedicated and well-supported subsection specifically for books, making it easier for potential donors interested in writing projects to narrow their search—and thus, competition from unrelated projects.
Cons: Kickstarter only offers an all-or-nothing approach, meaning that individuals only receive the money pledged if their goal is met or exceeded. This requires authors to have some degree of popularity already—only about 40% of campaigns in total are successful.
Wise Ink Author Testimonial: Former teacher and therapist Stephanie Johnson used Kickstarter to fund her book Baby Bare: A Bottom-Up Approach. She managed to raise $16,735 over a 30 day period—115% of her goal—and her book is set to be released this month.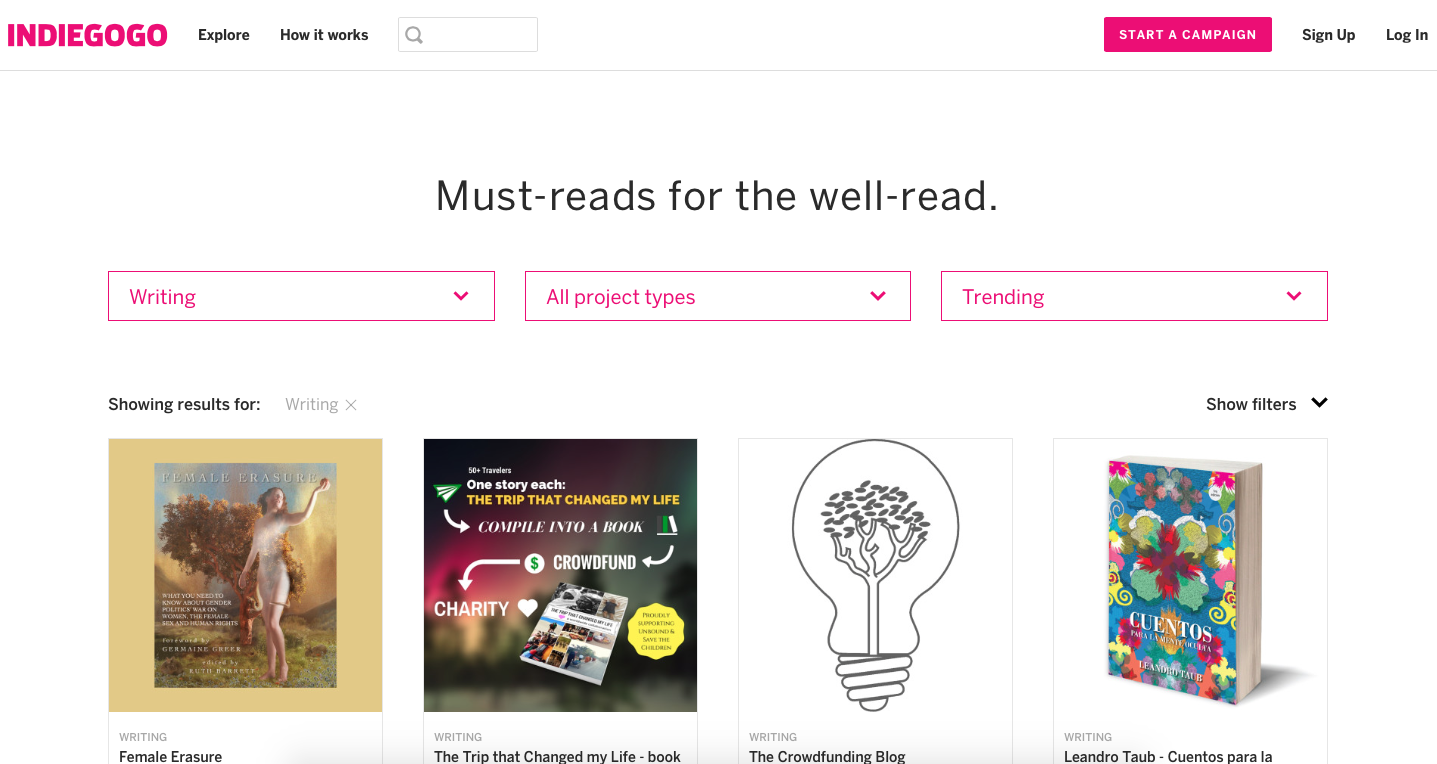 What it is: Indiegogo, coming in second to Kickstarter in terms of traffic and popularity, was created in 2008 with a much more flexible model at a time when Kickstarter began to be increasingly selective. This platform is known for accepting nearly any kind of creative project, and it quickly rose to become Kickstarter's primary competitor.
How it works: Indiegogo functions in a similar fashion to Kickstarter. Individuals propose a monetary goal, a deadline, and rewards for pledges of varying dollar amounts.
Average amount raised: $3,700.
Their fee: 5% for successful campaigns and 9% for unsuccessful ones, in addition to credit card charges.
Pros: There is an option to retain donations for a failed campaign for a 9% fee and a promise to deliver on donation perks. This is one of the main reasons many choose Indiegogo over Kickstarter—regardless of if the goal amount is met, creators on Indiegogo may keep whatever was raised. Furthermore, there is an option to continue a campaign past its end date for the same 5% fee.
Cons: Indiegogo is not the juggernaut that Kickstarter is in the crowdfunding world. With half the traffic and brand recognition, it may not be as easy to raise money.
Wise Ink Author Testimonial: "[Indiegogo] allowed us to keep whatever money we earned so it felt like less of a risk than the platforms that only grant you money if you meet your fundraising goal. One of our favorite features is that if you have a successful campaign when it is finished, you can continue it "on demand." Due to this feature, we were able to raise a lot of money above our initial goal."
 – Lori Portka
Friends Lori Portka and Liv Lane created an Indiegogo profile to publish their book Infinite Purpose, a spiritual guide detailing an "eight-step path to purpose." They managed to raise $41,178—117% of their goal—and their book was released on November 9, 2015.
What it is: Launched in 2010 and endorsed by Bill Clinton and Bill Gates, this platform is rapidly catching up to Kickstarter and Indiegogo as one of the top crowdfunding sites. This platform also caters to people with ideas of all sorts—musicians, filmmakers, writers, philanthropists, etc.
How it works: This site also functions on a similar model. Creators set a dollar amount and a deadline and create a profile for their idea. It is then up to the individual to promote his or her campaign.
Average amount raised: RocketHub sees an average of 20 backers per project, and about $75 per contribution—so about $1,500 per campaign.
Their fee: If the project reaches its goal, RocketHub charges 4% plus a 4% processing fee. If it does not reach its goal, the creator is charged 8% plus processing fees.
Pros: One perk that sets this platform apart is its free "success school"—an online tutorial on how an individual can maximizing the success of his or her campaign (how long to set the deadline, promotion strategies, etc).
Cons: The website is not as user-friendly for people browsing categories of projects. It would be a lot harder for a stranger to stumble upon the project; he or she would have to know in general what to look for. Furthermore, RocketHub does not see nearly as much traffic as Kickstarter or Indiegogo.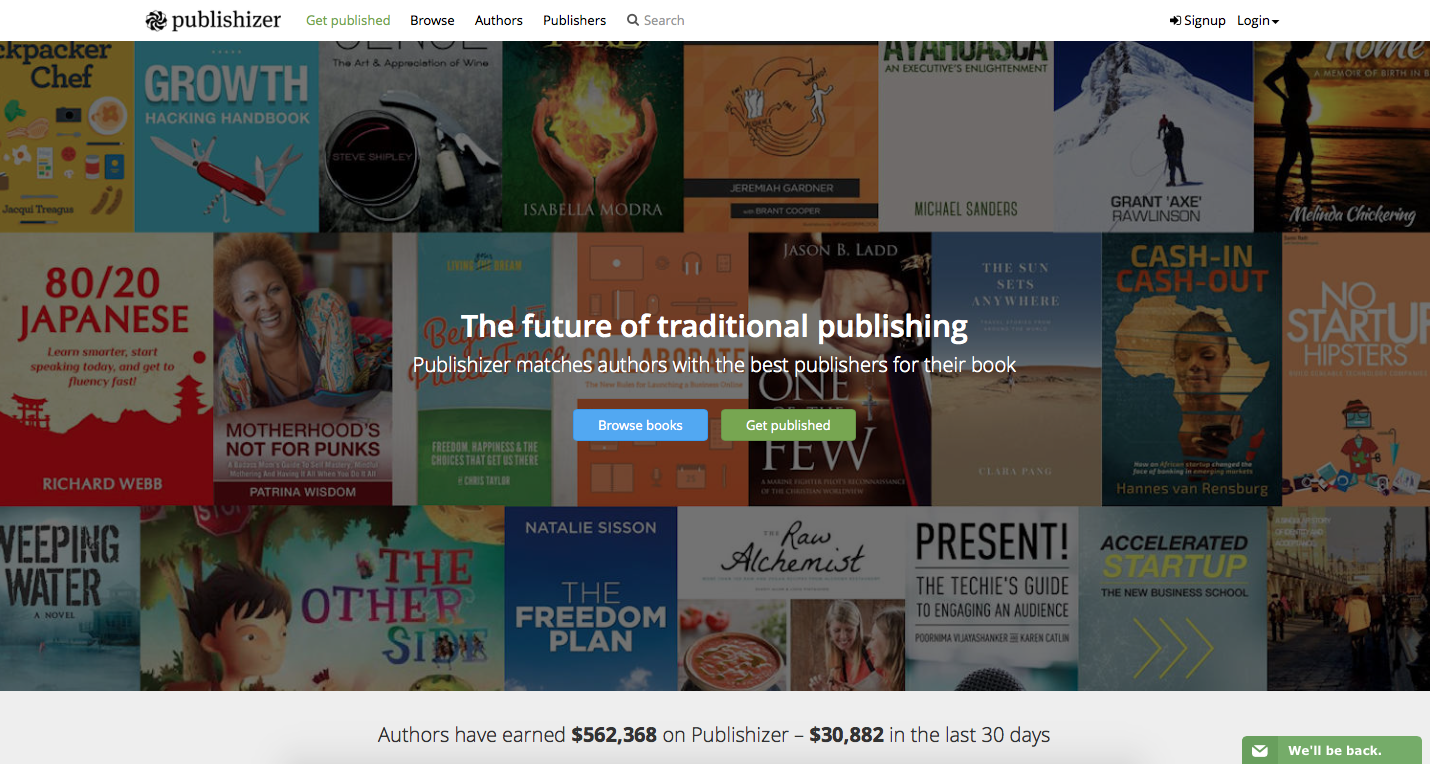 What it is: This "Kickstarter meets Tinder, for publishing" is one of the newest niche platforms on the scene. This site works to connect authors directly with publishers if their book proposals garner enough preorders.
How it works: Devoted exclusively to books, this crowdfunding site operates on a slight twist to the traditional model: authors upload a book proposal, and readers preorder the ones that pique their interest. If a certain number of preorders is reached within a given timeframe, publishers with which the site has partnered are notified. These publishers then have the option to reach out to the author to negotiate a book deal. Authors are allowed to keep all of the money they raise, no matter if they reach their target.
Average amount raised: No data.
Their fee: A hefty 15% plus credit card charges.
Pros: One of the most prominent publishing-only crowdfunding sites, Publishizer's strength comes from the fact that all users of the site are there for one thing: to find a good book. Authors benefit from not having to compete against unrelated projects as well as having the service tailored specifically for their needs.
Cons: This site's specialization is also its drawback: Publishizer sees a tiny fraction of the traffic general platforms like Kickstarter and Indiegogo do. The returns may not be worth the effort. Furthermore, this method doesn't necessarily benefit an individual looking to self-publish—the site's main goal is to make it easier for authors to connect with publishers if they have a good idea. The site does lay out which publishers will collect royalties and which just provide their initial services—Wise Ink being one of them—so authors might still be able to maintain whatever level of agency they would like in the process.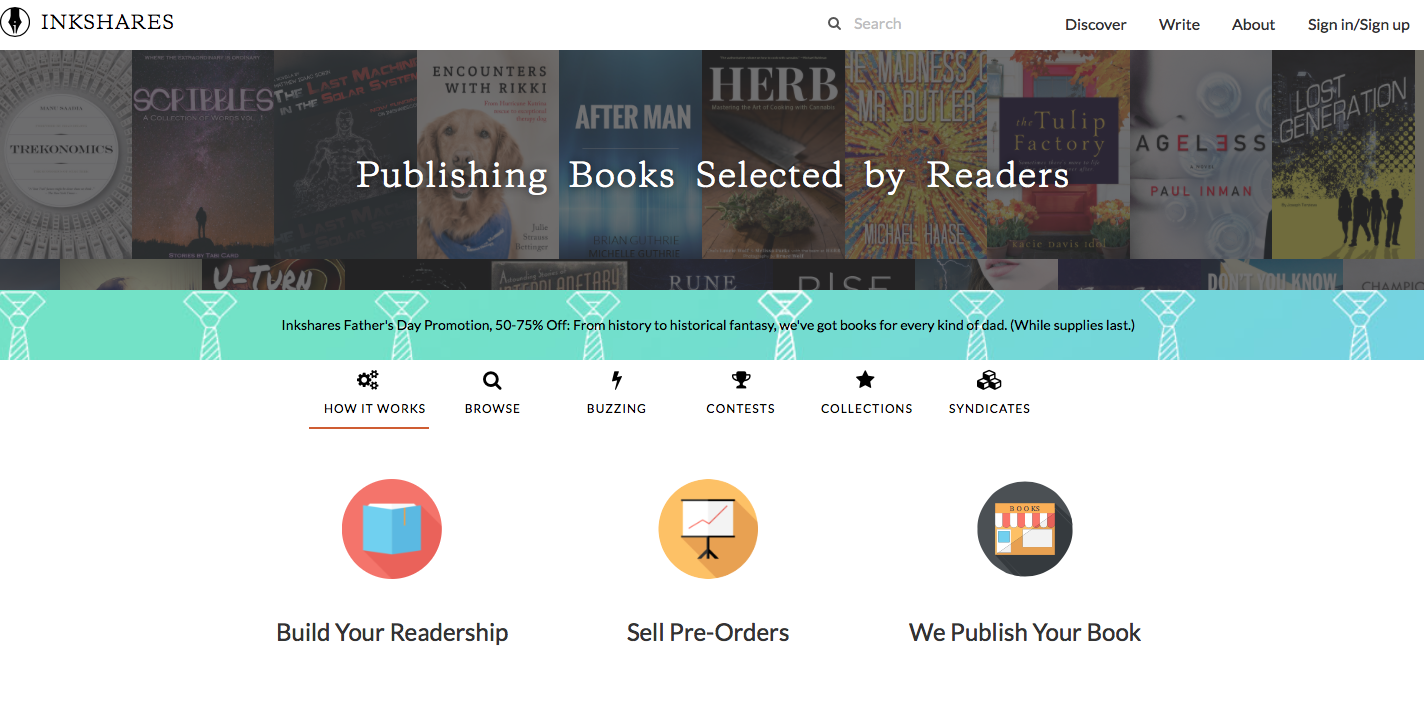 What it is: Founded in 2013, Inkshares is a hybrid publishing service and crowdfunding platform. With 94 titles published and 35 currently in stores, this company seeks to eliminate the "slush pile" and let the readers decide what gets published.
How it works: Inkshares functions similarly to Publishizer—except, instead of connecting authors to publishers, Inkshares is a publishing house in its own right. If a book reaches 250 preorders of $20 each, the company publishes it in a "light" format—some edits, but no marketing or design—and if it reaches 750, Inkshares treats it like a traditional book deal.
Average amount raised: No data.
Their fee: To publish books that reach the preorder thresholds, Inkshares takes 50% of the revenue from print sales and 30% from e-books.
Pros: Cutting out the middleman altogether, this model offers security for a solid idea in an industry fraught with uncertainty. The only condition is 250 preorders, and then you have a publisher—no strings attached. 
Cons: This company functions like a traditional publishing house, and if a pitch is successful, an author would sign away many of the creative and executive freedoms associated with self-publishing.
Crowdfunding may not be the magic solution for most authors on a tight budget, but many have found it a useful supplement to more traditional methods of fundraising. Larger, more universal platforms like Kickstarter, Indiegogo and RocketHub are great for authors with a nontraditional idea or a wider audience in mind who definitely want to maintain total control over the process, whereas niche sites like Publishizer and Inkshares might work better for authors with a great idea but just can't seem to clinch a book deal. If any of the above sounds like you, crowdfunding might be the right place to start.
Think we missed an important site? Have a question about any of the information? Let us know your thoughts in the comments below.
Subscribe to the blog
Have every new post delivered to your inbox every time we publish a new article. Your email address will never be shared!