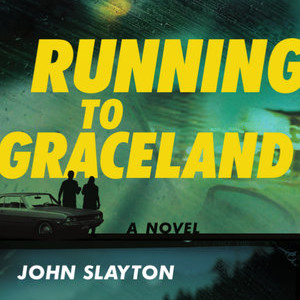 John Slayton started writing his novel, Running to Graceland, over 20 years ago. We welcome John to the Wise Ink team and dive into some deeper questions about the makings of his book.
WI: Who are some of your favorite writers and writers that have influenced you?
JS: Some of my favorite writers are Margaret Atwood, David Mitchell ( loved the Bone Clocks), Andrew Smith and George R.R. Martin. But there are many more writers that I like.  I try to remain diverse in the writers and the genres that I read. As far as influences, I would have to say Stephen King would be the biggest one. I think that there are a number of comparisons that can be drawn between Running to Graceland and that wonderful novella that King wrote, The Body. King has a gift for maintaining the reader's interest and keeping the writing at a high level of tension.
WI: Tell us a little bit about your story and what inspired you to write, Running to Graceland.
JS: Running to Graceland has been twenty years (and many revisions) in the making. It started as autobiography back when I was in the MFA program at Florida International University. But for each revision, the story drifted farther and farther away from autobiography until it was entirely fiction. The reason being my life is too boring to maintain a reader's interest over a full novel. The story was inspired by my best friend from back in the day who in many ways was similar to Curtis. He was a person with many admirable qualities but ultimately someone who was set on a path toward self-destruction.
WI: Who do you relate to the most in your story, Running to Graceland?
JS: That would be Jack. He is someone trying to make sense of things, trying to make some greater connection between himself and the larger world and struggling to do that in the face of everything that's happening around him but still hopeful. I admire Jack because he is far less cynical about the world than I am, probably due to his youth 😉
WI: What is one piece of advice that you would give to writers everywhere?
JS: Have passion for what you are writing. Believe in what you are writing. No matter what that is. If you're writing a story about a tiddlywinks competition, try to make it the best damn book about tiddlywinks that you can make it. Most of all, make sure to take enjoyment in the process of writing and don't rush it. In my experience writing is a lot of thankless work for little reward;) and as a writer your passion and the enjoyment you derive from writing are the things that will provide you biggest satisfaction.
WI: How can we purchase your book?
JS: You can purchase my book on Amazon.
Subscribe to the blog
Have every new post delivered to your inbox every time we publish a new article. Your email address will never be shared!