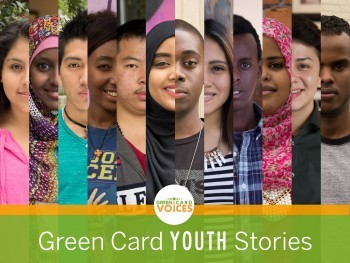 Wise Ink is proud of all of our authors, but it is especially exciting when authors and their works are recognized through book awards. Greencard Youth Voices is the recent recipient of the Moonbeam Children's Book Awards. For those not in the know, Green Card Youth Voices is a wonderful work that contains photos and stories of immigrant youth as well as a study guide and glossary that will help inspire and educate readers. To celebrate this win, we asked the authors to answer some questions for us.
1.What prompted you to enter this particular contest?
We entered the Moonbeam Children's Book Awards at the advice of our publishing partner, Wise Ink. We knew that this book was unique, that it had a niche market and that it deserved recognition. For example, usually when immigrant authors decide to tell their story, they wait many years before actually doing so. They wait to become proficient in the language; they wait to gain 'credibility' as professionals and as new Americans. But with "Green Card Youth Voices: Immigration Stories from a Minneapolis High School," the authors had only been in the country for a few years at most before telling their stories. Their English was simple and their experiences still very raw. All of this translates into a moving collection of heartfelt stories. Although not children, the authors are all young people whose wisdom and resilience shines through their words so brightly.
2.What was your first reaction after realizing you won?
We were in the office when we got the call. We put the phone on speaker so all of our staff could hear. From the moment we were aware we had won, we were extremely happy because we knew how much this would mean to the student authors. It was really about being able to tell the students, 'you won a national award!' It is a whole other level of validation of their voices and courage when a committee of diverse readers from different places around the United States who read many different books, to pick THEIR book, to say THEIR voices and THEIR stories are worth honoring. It went from being important locally, to being important nationally. Some of the students have even changed their profile pictures on Facebook to an image of the award!
3.Aside from winning, what are you most proud about concerning this book?
This book has found its home in classrooms, universities, and libraries as a teaching tool. That is the component of this book that makes us most proud. It is being used to break stereotypes and bring neighbors, classmates, and peer groups closer to one another. When the book is being used in a classroom, students have to engage with the stories on a deeper level and think critically about them. This is exactly what Green Card Voices is all about!
4.How are you hoping this award will spread the word about your book?
Receiving this award for our very first book means we're on track! Other communities can benefit from this type of book. We are currently working on a very similar project in Fargo, ND that is modeled after the "Green Card Youth Voices" Minneapolis version. Because of this award, we have credibility. We are being recognized because this model is successful and meaningful. We can say, 'this is an AWARD WINNING book. Let's duplicate it!'
5.What is one piece of advice you would give to another author dealing with rejection and thinking of abandoning a project?
You need to know the big picture: the scope, the target audience. We knew the book had to have the study guide because we knew we wanted it in classrooms. Even though adding that piece added its own challenges, we were clear in our vision and weren't going to cut corners. Similarly, we discussed not using the pictures of the students in the book, but quickly rejected that idea because another critical piece of book was having the readers associate a face with the story. This is an absolutely crucial piece to create empathy. Every story also has a link to the student's video to further emphasize this point. We kept asking ourselves, how will this book make a difference and what does it need to do that? Our focus on the big picture, on our target audience, and our mission helped clarify the direction the book should take.
In life, there are no failures, only learning opportunities. You should always continue with your work no matter if you come up against rejection. Rejection doesn't define you, and it's not necessarily negative. Sometimes you just have to persevere and keep on trying.
Subscribe to the blog
Have every new post delivered to your inbox every time we publish a new article. Your email address will never be shared!