This guest post is by Clare Wilson, author of The Long Staff
As a small-fry author with an independent publisher, you need to be creative when it comes to book promotion. Let's face it; there are plenty of tiny fish in this very over-populated pond!
While you can't be in with the establishment for all the major events and book festivals, you can, especially when grouping together, create fringe events and use the internet to create your own home-grown promotions.
It's important to keep your ear to the ground on sites like Twitter, to keep an eye on what's happening around the world. Last year, World Book Night passed me by and I vowed to myself that I was going to get involved in 2012.
An author I greatly admire, Nicola Morgan, had a number of things to say about World Book Night in 2011 which included her being interviewed on the BBC to discuss her views. When I noticed she had begun to blog about it again in 2012, I wanted to hear what she had to say. You can read what she wrote here.
Like many others I'm sure, she had taken issue with whether the official way World Book Night works was actually helpful to authors themselves. It's aimed at helping bookstores, authors and publishers. However, when you mass print books from established authors to be handed out for free, who are you really helping?
Nicola had the great idea of simply buying a book and giving it to someone you think would love it. She also recommended inscribing the book with a personal message, telling your chosen person why you bought them this book on World Book Night. This reminded me of instances I had heard of the year before… Books left on trains for strangers; or in phone booths for passers by… The idea excited me.
So, I started thinking I really wanted to get involved, and to use this as a platform to get people interested in my book. How though? I couldn't afford to start handing away hard copies of my work. It just happened that World Book Night roughly coincided with the launch of my book on Kindle. It seemed perfect. Here was a way for me to offer people all over the world a free copy of my book, with neither me nor my publisher incurring the printing costs. It may not be helping independent book stores, but it was definitely helping an independent author!
So, I set to work alerting everyone on Twitter and Facebook about the fact that my book was going to be free to download on Kindle for the duration of World Book Night 2012. Luckily, through a great network of friends and fellow writers I have on both networking sites, the word soon spread and downloads started pouring in.
I felt like I was really involved in something, and noticed some other authors on twitter doing the same thing. We may not have been official 'World Book Night Contributing Authors,' but we were creating a digital event all of our own. By the end of my twenty-four hour promotion I had 406 downloads of my book. For a small-time author like me, that's huge. I may not have made any money from this, but I was so excited that I had reached so many people from all over the world.
So, what have I taken from this experience? Use every opportunity you can. If you hear of a book festival or national/ global literary event, involve yourself. Speak to other indie authors and create your own fringe-style events. You don't need to wait for the establishment to invite you in; start your own party!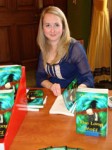 Clare is an author originally from Scotland, but now based inLondon. Her first novel, The Long Staff, was published by Olida Publishing. This is the first book in The Staff Wielder Series, the second book is due for release in 2012.
At her happiest, she is to be found hiding behind a laptop, living in a world of her own creation.
Website: www.staffwielder.com
Link to The Long Staff on Amazon
Subscribe to the blog
Have every new post delivered to your inbox every time we publish a new article. Your email address will never be shared!