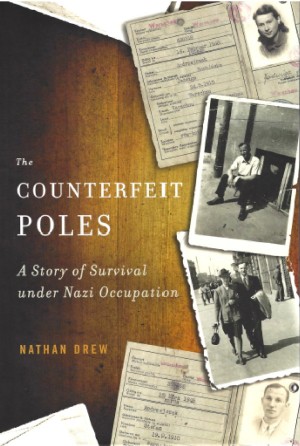 A father's story, edited by his son  – The Counterfeit Poles is a beautifully told memoir of a family's secrets through the devastating times of the Holocaust and World War I. Jerry shares with us a little bit about his father and his parents survival story.
Wise Ink:
Tell us a little bit about your story and what inspired you to write,
The Counterfeit Poles.
Jerry Drew: The Counterfeit Poles is a memoir written by my father (who died in 2006) detailing his experiences during the Second World War. I am just the editor of these memoirs. My parents, who were Jewish, escaped the ghetto and lived openly in Warsaw under Nazi occupation for almost two years, posing as Catholic Poles while earning a living producing false identity documents for the resistance and other Jews. Hence the title, The Counterfeit Poles! My parents came to America in 1946, soon after the war. My father was tortured by nightmares of what he had seen and thought that if he wrote down his memories, the nightmares might fade. So he dictated this memoir to my mother, in Polish, over the next few years, never entirely completing it. Many years later, he also gave an oral history of his experiences. After his death, I had the manuscript translated into English and then appended parts from his oral history, that had not been included in the manuscript, into the final work.
WI: How can we purchase your book?
JD: The book is available for purchase both on Amazon, and several bookstores it also downloadable on Kindle other E-readers.
Subscribe to the blog
Have every new post delivered to your inbox every time we publish a new article. Your email address will never be shared!